Magliner Sack Trucks
The Magliner Sack Truck selection offers a large variety of trucks including p-handled, solid wheel, multiple position and much more. Magliner is an extremely respectable brand and are renowned for there excellent build quality and supremely competitive prices. Constructed of aircraft aluminium the Magliner trucks are sure to last whilst giving you peace of mind that lies behind the Magliner name.
Magliner has built a legacy of innovation, quality and value for money for over 70 years. They are a durable, long lasting manufacturer of sack trucks. Magliner trucks offer up the highest build quality available at excellent prices. Made from aircraft aluminium these trucks are built to last and will not give way to any task thrown at them.
The two-wheel hand trucks are made from aircraft aluminium alloy tempered for high strength and optimum ductility manufactured to the Aluminium Association Standards. They also have ergonomically designed hand grip developed with input from NIOSH. Their range of convertible trucks have heavier extruded cross-section with adds exceptional strength and impact resistance. Also, the multiple tread types make loading and delivery convenient and safe.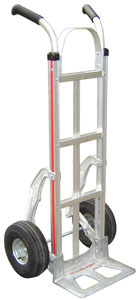 The Delivery Driver's Magliner hand truck (pictured to the right) is the most popular sack truck chosen by delivery drivers across the nation. The truck can be used for a whole host of applications and varying carrying events. The Heavy Duty truck boasts a 225kg load capacity which will make light work of near enough any problem you throw at it.

Magliner are committed to using top quality materials, which include high-strength extruded aluminium alloys, die-cast magnesium for specific applications, industrial-grade casters, and best-in-class motors. Magliner are based in America and supply all of the following international markets: Australia, Belgium, Brazil, Canada, Colombia, Denmark, Finland, France, Germany, Greece, Hong Kong (PRC), Israel, Japan, Mexico, Netherlands, Netherlands Antilles, Norway, Peru, Poland, Portugal, Puerto Rico, Singapore, Sweden, Switzerland, and of course, the United Kingdom.