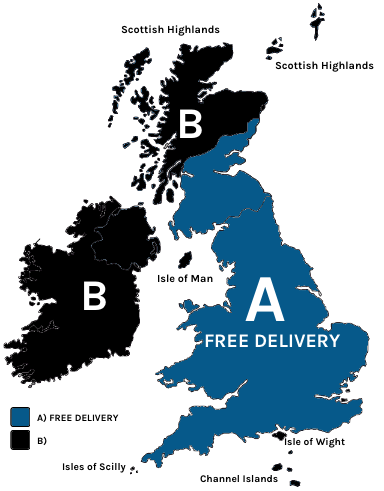 | Delivery Area A (Majority of the UK) | Charge |
| --- | --- |
| Next Working Day Delivery (Order Before 4.00pm) | £5.95 |
| Free Delivery (2 - 3 Working Days) | FREE |
| Delivery Area B* | |
| --- | --- |
| PO30 - PO39, PO40 - PO41, TR1, TR3 - TR9, AB10 - AB30, AB39, PA1, PA5, PA8, PA9, KA1, KA3 - KA9, DD, DG, EH, EX23, FK, G1 - G8, KY, ML, PL10 - PL15, PL17 - PL18, PL22 - PL29, PL30 - PL35, PL5, PL7, TD, TR2, AB31 - AB38, AB41 - AB56, PA21 - PA38, PH1 - PH3, PH5 - PH9, BT, IV, PH4, HS, KA2, KW1, ZE, PA20, PA41 - PA49, PA60 - PA69, PA70 - PA78, GY (Guernsey), IM (Isle of Man), JE (Jersey), KW2 - KW9, HR3, LD, LL, NP8, SA10, SA14 - SA19, SA20, SA31 - SA48, SA61 - SA69, SA70 - SA73, SA9, SY10, SY15 - SY19, SY20 - SY25, Republic of Ireland. | Additional charges may be applied |
Please note: The map shown on the left is a visual estimate of delivery charges. For accurate information regarding shipping information please see the table above.
Delivery Cut Off Times
The delivery cut off time to receive your order the Next Working Day is 4.00pm.
If you choose Next Working Day Delivery after 4.00pm your order will be dispatched the next working day e.g. an order placed at 9:00pm on Tuesday will be delivered on Thursday.
If you place an order over the weekend on a Next Working Day Delivery your order will be dispatched the Next Working Day e.g. an order placed on Saturday or Sunday will be delivered on Tuesday.
If you choose Saturday Delivery, the delivery cut off is 3.00pm on a Friday.
Goods are dispatched on a three (working) day service. Payment for goods by cheque & postal order will not be dispatched until all funds are cleared through our bank.
Working Day
A working day includes Monday through to Friday but excludes Bank Holidays.
Please note that compensation can NOT be offered in any circumstance if a delivery has not arrived on time, and it can NOT be offered for any persons who have taken the day off work in order to receive the item.
Sack Trucks advises that customers who foresee difficulty in obtaining their item at a home address should state a different delivery address at checkout. If your delivery address needs to be changed after the checkout procedure, please call us on 0117 330 2277 and we will get this changed for you, however this may affect the speed of delivery.
Failed Deliveries
If our couriers cannot deliver the item because nobody is present at the address, they will leave a card. Delivery will then be attempted on two other occasions. After this point, you will need to call your local depot to arrange a more convenient delivery date. If the courier receives no contact from you after a period of approximately 5 working days, they will return the package to us. This may result in extra shipping costs being incurred for re-delivery.
Changes to delivery details made by the purchaser after the goods have been handed to the delivery company will incur an additional charge of £20.00.
Outside Mainland UK & European Orders
Delivery costs to non-mainland UK postcodes vary dependant on location. Once your order has been placed we will contact you directly to confirm your personalised delivery costs.
If you would like to confirm delivery costs prior to ordering please feel free to contact our office on 0117 330 2277.
*Republic of Ireland Postcodes are unavailable for delivery for certain products. You can collect from our Warehouse if you would prefer. Please contact us for more information